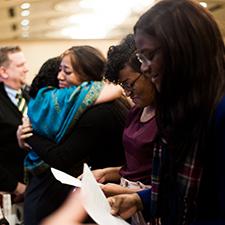 Six Kentucky State University students received contracts from Jefferson County Public Schools
Posted on March 10, 2020
---
Six Kentucky State University education students received a career-launching surprise during their recent appearance at the Jefferson County Public Schools (JCPS) Equity Institute recently.
Adam Andesha, Hidejuha Kennedy, Alairia Long, Kyron Parrish, De'Nasha Turner and Desiree Wofford were presented with conditional contracts to work for JCPS as teachers upon graduation.
"Dr. John Marshall (JCPS Chief Equity Officer) announced that my colleagues and I were given a guaranteed job opportunity within the Jefferson County Public School District," Long said. "Also, we were given a mentor to work with as we work to graduate college. My mind was blown and I was filled with nothing but love and excitement. This experience confirmed that the education department is where I am meant to be."
Kennedy was filled with gratitude.
"I was beyond grateful and thankful for that opportunity and experience, as I still don't know how to thank Kentucky State and the JCPS school district enough," Kennedy said.
The students served as panelists during breakout sessions entitled "What's Love Got to Do With It" at the conference. The students discussed their experiences in K-12 and shared wisdom with teachers in attendance.
"Our panel was quite diverse," Turner said. "Each panelist was able to present unique educational experience and how it impacted their future as aspiring teachers."
Dr. Roger Cleveland, director of the Center for Research on the Eradication of Educational Disparities (CREED), said that in addition to the contracts, the students will have a mentor at JCPS for the duration of their undergraduate career at Kentucky State.
"If they need resources at JCPS, they have a contact person there," Cleveland said.
Cleveland said the students had no idea the contracts were coming and were surprised.