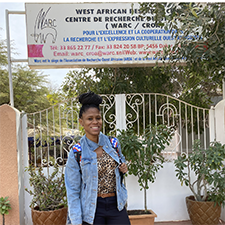 Kentucky State University professor completed fellowship in Senegal
Posted on March 10, 2020
---
A Kentucky State University professor was awarded and completed a research fellowship from the Council of American Overseas Research (CAORC) – West African Faculty Development Seminar in Senegal recently.
Dr. Erin Wiggins Gilliam, an associate professor of history and a Kentucky State alumna, spent most of January in Senegal, where she traveled throughout the country.
Gilliam said the highly competitive fellowship immerses faculty from minority-serving institutions in the West African culture, where they conduct research and develop curriculum that focuses on education, religion, globalization and other aspects of contemporary West Africa.
"My most powerful and moving moment was experiencing the House of Slaves and the Door of No Return," Gilliam said. "It was powerful because it was the last place that enslaved Africans stood before being thrown on to slave ships and taken to the unknown. To stand in the place of my ancestors and to know they endured was a moving moment for me."
Gilliam described the fellowship as a once-in-a-lifetime experience and one of the most pivotal moments of her professional and personal life, as West Africa is considered to be the ancestral land for most African Americans who are historically linked to the Atlantic Slave Trade.
The fellowship requires all recipients to develop a research-based curriculum that will be implemented at HBCUs and other minority-serving institutions, Gilliam said.
"My most important takeaway was the importance of cultural competency for students, professors and all those who have the opportunity to impact or influence others," Gilliam said.
Gilliam said she hopes more students will consider studying abroad.
"As the study abroad experience offers a true holistic academic understanding that truly teaches the concepts of acculturation and globalization while enhancing the collective of the emotional, social and academic growth for all," Gilliam said.
Gilliam said she is excited to speak about her experience and has been asked to present on several platforms.