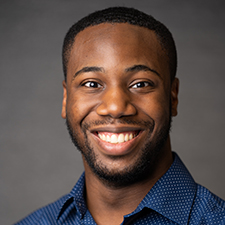 Kentucky State University alumnus gears up for internship at Toyota
Posted on March 31, 2020
---
A Kentucky State University alumnus that was part of the Toyota Engineering Scholarship program has found his niche in management and has secured an internship with Toyota.
Siraj A. Ramsey completed his portion of the Toyota Engineering Scholarship program at Kentucky State University and went to the University of Kentucky to work on its portion of the agreement.
Along the way, Ramsey found business management to be a better fit.
"I switched from mechanical engineering to business management in fall 2019 and it has been a great fit for me.," Ramsey said. "I didn't understand much about it until I took a class on it and, at the time, I thought I was going to be a finance major."
Ramsey said he learned more about his likes and dislikes during his engineering co-op.
"During my engineering co-op, there were chances to interact with others but it was only within your facility and plant," Ramsey said. "I want to interact with all sorts of people in different environments, whereas in mechanical engineering (co-op experience), it's within a factory."
Ramsey said he's picked up American Sign Language and is practicing to become intermediate in Spanish.
"I wanted to interact with all sorts of people without being confined to a discrete setting and the management program delivered just that," Ramsey said.
Ramsey's upcoming summer internship isn't his first at Toyota.
"I have completed internships before this at Toyota in Georgetown, Kentucky (TMMK) in production engineering and powertrain engineering," Ramsey said. "The scholarship provided many opportunities and allowed me to get my foot in the door."
Ramsey will intern at Toyota Motor Sales in the Cincinnati region as a marketing and management intern.
"After I complete the internship, I will return to UK to finish my management degree and apply for my mathematics degree from Kentucky State after transferring the credit needed to complete it," Ramsey said.
After completing his degree at UK, he plans to work for Toyota as a field traveler in management and marketing, a surveyor or a data analyst.
Ramsey said some of his best memories at Kentucky State include listening to the band practice at night, singing "Keep Your Lamps Trimmed and Burning" in concert choir and praying with his classmates before a calculus exam.
Ramsey said one of the most important things he learned at Kentucky State was unity.
"As you increase, try to help someone else do the same or if you're progressing try to pull someone along with you," Ramsey said. "We are a community that is in this together."
Ramsey said that even though engineering wasn't his first choice, he eventually found his niche.
"Stay true to yourself and work hard because good things tend to follow those that do," Ramsey said.