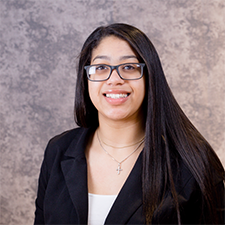 Kentucky State University nursing student gets a helping hand and pays it forward
---
A Kentucky State University nursing student was put in a difficult situation due to the current global public health crisis.
Dayana Munoz, a senior from Cincinnati, Ohio, found herself in need of assistance after the campus and essentially the nation shut down due to social distancing guidelines.
Due to the generosity of President M. Christopher Brown II and Kentucky State University faculty, staff, administrators, alumni and friends, Munoz is able to finish her senior year while also lending a hand and gaining valuable experience at Frankfort Regional Medical Center.
"This current crisis is affecting my studies by making it harder for me to finish my clinical hours that I need in order to graduate," Munoz said. "Throughout my matriculation in nursing school I have always been focused and determined. Therefore, this pandemic has been stressful because I didn't want to fail my class for not finishing clinical hours due to school closing."
Munoz said she's grateful to have support from her HBCU to help get through this tough time and for giving her a chance to finish her studies. Community partners like Capital Plaza Hotel and Terri's Catering have also helped Munoz navigate this difficult time.
Munoz said due to the lack of PPE (personal protective equipment) and the seriousness of the crisis, she's not allowed to care for COVID-19 patients.
"My main focus is to help my patients in the best way possible to improve their well being and to keep them safe from COVID-19.," Munoz said.
Munoz said work has been interesting and she's gained a lot of knowledge and skills, which will prepare her to be a great nurse.
"The profession of a nurse solely revolves around the well-being of humans and the impact we have in the holistic care of those human beings," Munoz said. "My responsibility as a healthcare provider is to maintain or improve the quality of life of those individuals, the community, and society during this pandemic."
The pandemic has shed light on the importance of healthcare workers, Munoz said.
"I believe that this pandemic reiterates the importance of healthcare professionals in society," Munoz said. "Through this tough time it is important to be understanding and follow the guidelines put in place for us to be safe."
Munoz is set to graduate in May.
Click here to contribute to the COVID-19 Student Emergency Fund. To inquire about receiving help from the COVID-19 Student Emergency Fund, email COVID19@KYSU.EDU.