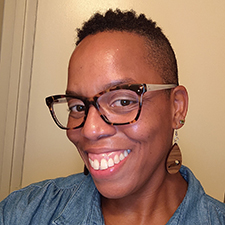 Kentucky State University alumna found her calling working with children
---
One Kentucky State University alumna said she found her calling working with children after earning a bachelor's in child development and family relations.
Hope Sanders, class of 2006, said she's been working with students from infants to high schoolers and moved to Louisville in 2016 to work in the public school system.
"I love seeing children excited when they come to school or daycare and seeing children happy to see their teachers and friends at school," Sanders said. "They are excited to learn something new every day."
Sanders said the curriculum at Kentucky State helped her along the way as she got closer to graduation and practicum.
"I believe God called me to work with children," Sanders said. "I don't know how or why he chose me to work with children, but it's fun."
Sanders said some of her best memories from Kentucky State include becoming a member of the marching band as a Silkette. Sanders was also a member of the gospel ensemble, Iota Sweethearts, Zeta Phi Beta Sorority Inc. and Tau Beta Sigma National Honorary Band Sorority.
Sanders said at Kentucky State she learned to always be herself, work hard and never stop learning.
Her advice for current and future Thorobreds: "Don't let anyone tell you that you can't do anything. Keep smiling. Don't give up. Always be yourself and don't change for anybody unless it's God."
Sanders said her mother recently passed away in June 2019 and she got married to John Sanders in August. She is moving to Memphis this fall.