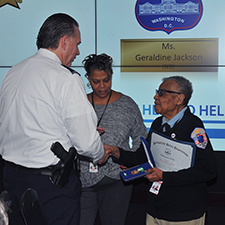 Kentucky State University alumna honored by the Metropolitan Police Department of the District of Columbia
Posted on September 11, 2020
---
A Kentucky State University alumna was recently honored by the Metropolitan Police Department of the District of Columbia.
Geraldine S. Jackson received the achievement medal from the department, presented to her at police headquarters in the command center. Jackson said she was the only recipient and was presented the medal by Chief of Police Peter Newsham.
"I commenced serving the Metropolitan Police as a member and graduate of the Senior Citizens Police Academy," Jackson said. "After graduation I joined the police at DC Police Headquarters - serving first in research and analysis, secondly in testing and assessment and lastly in the domestic violence department."
Jackson said she was a volunteer with the department for 12 years.