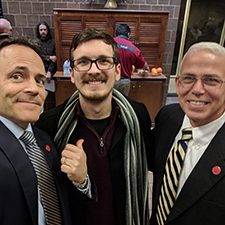 Kentucky State University alumnus translated success in Frankfort into position at SpaceX
Posted on March 24, 2020
---
A Kentucky State University alumnus recently received a promotion at a company that goes out-of-this world.
Christopher Alan Stanley used tools he learned at Kentucky State and applied for work in the Commonwealth to land a job at SpaceX and recently earn a promotion.

"I started working at SpaceX in 2018 as a Linux systems engineer focusing on security," Stanley said. "From there I quickly transitioned to senior information security engineer and, most recently, to leading the information security engineering team."
Stanley said he was involved in helping develop and implement the Frankfort Public art website with the help of Joanna Hay during his time on the Hill.
"This project holds a special place in my heart because of the two national art awards this work received," Stanley said. "Being able to work closely with the community helped give me the perspective I needed on the importance of appreciating local culture and art."
After graduation, Stanley started a company as a consultant with Baptist Health Hospital and also the Commonwealth of Kentucky.
"I was recognized by both the chief information officer of the Commonwealth Office of Technology and Governor Matt Bevin for my help at the state-level," Stanley said.
Now at SpaceX, Stanley said there is no shortage of amazing things going on at the company.
"From Starship, which represents a fully reusable transportation system designed to carry both crew and cargo to Earth orbit, the Moon, Mars, and beyond; to Starlink that will provide high-speed internet to the entire planet," Stanley said. "Let's also not forget about Dragon, which is a free-flying spacecraft designed to deliver both cargo and people to orbiting destinations. It is the only spacecraft currently flying that is capable of returning significant amounts of cargo to Earth. Currently Dragon carries cargo to space, but it was designed from the beginning to carry humans. Dragon is the first American spacecraft in history to autonomously dock with the International Space Station."
The jaw-dropping projects aren't the most exciting part of working at SpaceX, however, Stanley said.
"The most exciting part of working at SpaceX is being surrounded by some of the most brilliant and highly-skilled individuals on this planet, while helping to secure the future of humanity and eventually life on other planets," Stanley said. "I watch every single launch knowing that I played a small part in making that possible. What is especially amazing is seeing the Falcon 9 booster autonomously lands itself back on Earth after delivering its payload to space."
Stanley said the biggest change in himself from his days on campus to now is self-awareness.
"I meditate often," Stanley said. "I reflect on who I am as a person, how my interactions with people affect change, what my flaws are, what my strengths are, how to be better. Understanding yourself helps you to use your strengths to be successful. Everyone has strengths."
Stanley said he would encourage current and future Thorobreds to not give up on their dreams.
"Never give up on your dreams, but realize that in order for them to come true you have to put in the work," Stanley said. "The amount of work is larger and harder the bigger the dream. It is up to you to set your own destiny, stop waiting for others to do it for you."
Finally, Stanley encourages Thorobreds to not be afraid to ask for help.
"It takes more than one person to launch a rocket into space," Stanley said. "Help your peers, challenge each other to be better. If humanity is going to be successful, we need to learn to work together."